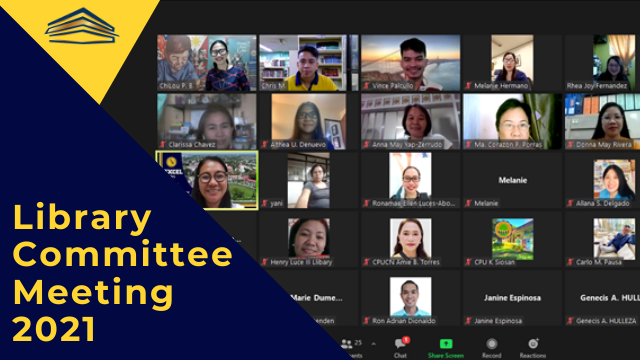 The Librarians and the members of the University Library Committee had an online meeting last October 20, 2021 (Tuesday), to discuss the current status of the library, accreditation updates, library services, and future plans and programs.
The Library Committee consists of faculty representatives from each college, their role is to act as a liaison between their college and the library.
Director of Libraries Ma. Cynthia Peleña opened the meeting and discussed the library book budget, upcoming accreditation for various programs, and collection development plans.
New library services such as the BAHANDIAN Institutional repository, Virtual Reference Services, Library Book Drop were also introduced. Librarians for the different departments such as Kindergarten, Elementary, and Senior High School also shared updates and plans about their respective libraries.
The library also introduced future plans for programs and activities. Librarian Chilou Bato-on outlined the next programs in line for the American Corner. Librarian Vince Palcullo shared the next major program of the library, the Human Library.
Chilou Batoon served as host for the online event.
For more information about our current services and resources, visit our website and follow us on social media.
More pictures from the event: