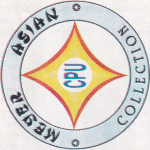 MEYER ASIAN COLLECTION
Henry Luce III Library
Central Philippine University
Iloilo City, Philippines 5000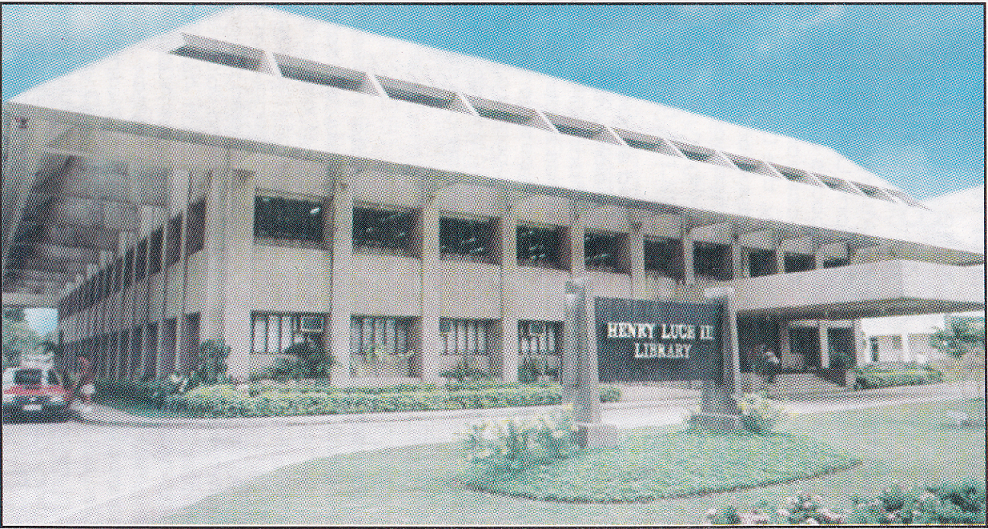 A Synopsis of Holdings in the Meyer Asian Collection
In 1974, the Meyer Asian Collection was initiated in the Central Philippine University library, Iloilo City, with a handful of books and journals. In December, 1980, on the occasion of the 75th anniversary of the university, the Collection was dedicated. It has developed exponentially in to holdings of thousands of volumes worth millions of pesos. With Prof. Milton Meyer as donor it continues to grow, aided by his friends and interested parties.
Its logo reflects widespread acquisitions; the four quadrants symbolize all major civilizations of Asia: India (Hinduism and Buddhism]: China; Islam; and the West. The Collection has expanded into related scholarly and research categories: slide carousels, maps, charts, photos, posters, pictorial art, ethnic artifacts, and textiles. Although housed in CPU, the Collection is open to all serious students of Asian countries and cultures.
BOOKS
World: Includes volumes of global interest, as the 10 volume Toynbee set A Study of History 27 volumes (1920-1982), Survey of International Affairs, published by the Institute of International Affairs (London); as well as heterogeneous works relating to Europe, Africa, and non Asian subjects.
Pacific Australia: Includes 10 bound volumes of National Geographic with articles on Australia, 191B-199B; also a complete run of Australian Geographic, 1986 to current year.
Asia: Yearbooks. Reference, Religion; including Max Muller, ed. Sacred Books of the East, 50 vols, New Delhi reprint, Buddhism. Other Faiths. Asian History (General, Modern); Topical. Culture, Asia and Russia/Communism.
China: Reference Border Areas; History (General, Other); Communist; Pre-imperial; Qin dynasty; Han dynasty; Tang-Ming dynasties; Qing dynasty; Modern; Modern (topical); Republic (Biography, Sun Yat-sen, Chiang Kai-shek, Taiwan); Traditional; (Thought Classics, Society); Literature (General, Traditional, Modern): China and the West; People's Republic of China; Reference; Biography (General, Mao-Tse-Tung, Leaders); Chinese Communism pre-1949; General History, Politics; Economics; Society; Accounts; Foreign Relations; Art (General, Specific, Osvald Siren, National Palace Museum, Taipei);
Japan: Reference; History (General, Modern, Imperialism, War, 1904-1950. Into World War II, 1931 -1941. Post-Independence Japan); Life; Economics and Politics, Literature (Classical, Modern. Art, including boxed deluxe edition of Ivan Morris, ed. Tale of Gangei scroll).
Korea: General S. south; North.
South Asia: Subcontinent; India (History, Leadership, especially Gandhi & Nehru, Topical, Life, Culture); Border States,
Southeast Asia: General/History, Mainland (Burma / Myanmar), Thailand, Indochina (Cambodia, Laos, Vietnam); General; Conflict; Insular (Malaysia/Brunei/Singapore, Indonesia).
Philippines: Reference, General/Topical, Periods (Pre-history/Spanish, United States, World War II, Since 1946); Foreign Policy/Romulo; Arts and culture, Etcetera…
United States: Presidents (from Roosevelt, by years in office); General; Diplomatic History; includes full run of Asia related of volumes (55) of the Department of State's Foreign Relations Papers, 1922-1952/1954; and Current Document series, 1956-latest published). Korean War (Official/Other); Vietnam War (Official/Other; including 5 volume Pentagon Papers); United States and Asia, China, Japan, South Asia/Southeast Asia, Korea.
World War II: Reference; United States (Leadership, MacArthur; Official Accounts; includes 5 vols, marine history; 15 vols, Morison's naval history; 7 vols, Air Force; 15 vols, Army. Congressional Hearings, Pearl Harbor Attack (39 parts and report); Commonwealth (United Kingdom; includes 6 vols, War Against Japan; 5 vols, British Foreign Policy in the Second World War). Australia; includes 13 official vols-relating to war; (13 vols., Documents on Australian Foreign Policy, 1937-1949); Proceedings, Tokyo War Crimes Trials, 27 vols, index; Garland Press edition; History; Places and Campaigns.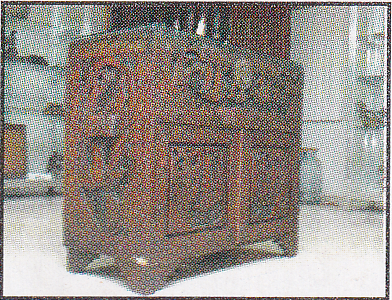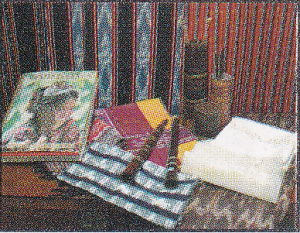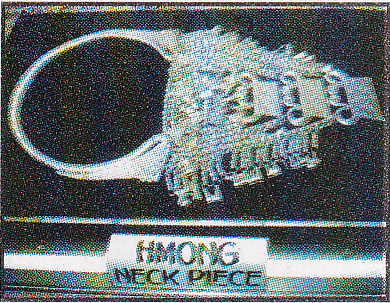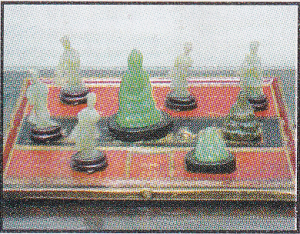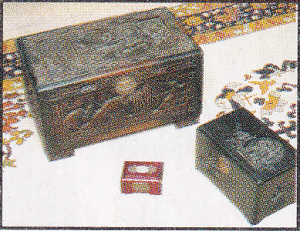 Journals
(Terminated or trans-national runs)
Arts of Asia (1971-Current); (Beijing (ex-Peking)Review, 1972-1991. Irregular, some unbound volumes; The China Quarterly, 1960-1991. (Missing 1976). London; Journal of Asian Studies (ex-Far Eastern Quarterly). 19441-current. Varying publication sites; National Geographic. Sporadic to 1930; 1931-current. (Then missing handful of half-year volumes).
SLIDES
(Not all carousels have full compliments)
Asia: Southeast Asia (80): Nine countries, except Philippines ASEAN (140): Indonesia/ Malaysia/Singapore/Thailand Japan (140) Pacific: Hawaii (80), Polynesia (80), New Zealand (80), Australia (140): Philippines: World War II (80): Missions/Meyers.
TEXTILES
Philippines (tribal) – Cordillera: Ifugao/Bontoc; Mindanao: T'boli/Tinggian. Indonesia (batik): Javanesse, Other Islands. India: Sari material. China Other: Japan/Cambodia/Mexico
FILES
China (General, Politics, Leadership, Military, Economy, Society, Foreign Affairs); India, Japan (Genera! Leadership, Political/Military, Economy, Foreign Relations); Korea (South); United Nations.
MAPS / CHARTS / PICTURES
Drawers. Asian educational maps, Asian geographical maps, Asian picture file: A-D/E-H/l-L/M-P/O-T/V-Z

Other maps (free standing):
Philippines: National Mapping and Resources Information Authority: Philippines (1990). Laminated roll; Philippine Coast and Geodetic Survey: Manila Bay (Laminated, mounted); Panay island. (Laminated roll); Capiz provinces (Greatly enlarge, laminated roll); Philippine (1976) roll;
World (Physical), rolled. Defense Mapping Agency.
Photo Mural, Manilas, 1937.8'x2'. (From north bank, pier area east to Malacañang). Mounted posters: Afghanistan, Ceylon, India, Indonesia, Nepal. Chinese rubbings and monochrome paintings, Japanese woodblock prints; mounted Indonesian wayang (puppet) prints; complete set of 13 Thai mural art (four framed), Vessantara jataka tale. (One of Buddha's previous births); Artifacts: circular mad-and-shell centerpiece; Majuro, Marshall Islands; from Batak tribe, Palawan island; from other Philippine sources; China; Tibet; Indonesia; Vietnam; Japan; Pakistan (Punjabi lady's costume).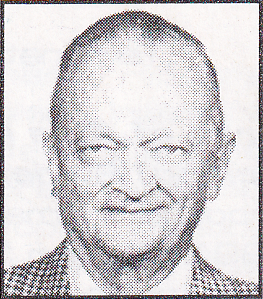 PROF. MILTON W. MEYER
239 South Madison, # 20
Pasadena, Ca. 91101
Prof. Meyer was born in Capiz, the second son of three of Dr. and Mrs. Frederick W. Meyer, affiliated with the Emmanuel Hospital (1919-1943). He went to primary school at the local Baptist Home School and did his secondary education in Manila at Bordner School. Shortly before war broke out, he left for the United States to pursue college studies. He served for three years (1943-45) in the army in continental service, London, and the China-Burma-India theater. Subsequently 1951-55) he was posted with the Foreign Service of the Department of State at Jakarta and Hongkong. In 1947, he received his BA from Yale; in 1949, his master's from Columbia; a decade later; his Ph D. in history from Stanford. For thirty-five years (1959-1995) he was professor of American and Asian histories at California State University, Los Angeles, in the course of which time he traveled extensively in Asia. Besides his sizeable collection at CPU, he has endowed books and slides in Manila to the Magsaysay Asian Library, the Ayala Museum, and the American Historical Collection Foundation. His Philippine ties, personal and professional, remain intimate.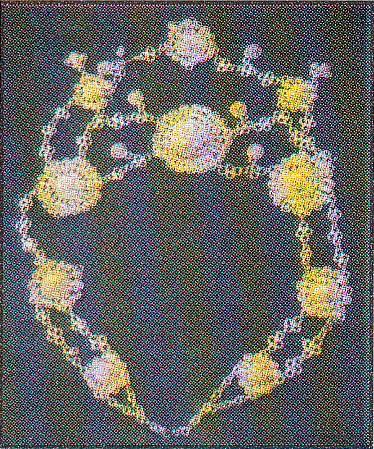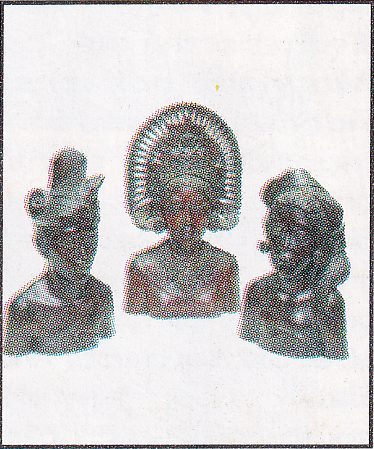 The variety and richness of the Meyer Asian Collection makes it the most valuable material collection in the Visayas, if not in the whole country. Its importance, therefore, in education and research endeavors cannot just be underestimated. Needless to say the primacy of the collection for history scholars and history enthusiasts have to be underscored but it can also serve the arts, the .humanities, and the social sciences. Artists and craftsmen could certainly find ideas and inspirations from looking at the cultural artifacts that are part and parcel of the collection. The Meyer Asian Collection, in a sense, is a veritable source of knowledge and an extremely valuable material heritage for present and future generations.