Featured image: NEW YORK, UNITED STATES – JANUARY 01: Time Inc. founder Henry Luce (R) with his elder son Henry Luce III. (Photo by Margaret Norton/The LIFE Picture Collection via Getty Images)
Henry Luce III, 80, Publisher of Time and Philanthropist, Dies by Douglas Martin, obituary from the New York Times last September 9, 2005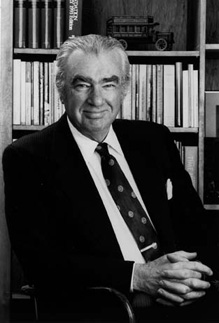 Henry Luce III, the elder son of the founder and editor in chief of Time Inc., who held prominent positions at the company and went on to be head of the Henry Luce Foundation, died on Wednesday at his summer home on Fishers Island, N.Y. He was 80.
The cause was not immediately determined, said Terry Lautz, vice president of the foundation.
Henry Luce III, the son of Henry R. Luce, was the grandson of Henry Winters Luce, who, with his wife, Elizabeth, was an educational missionary in China. Henry III, known by the nickname Hank, had no middle name.
He was born in Manhattan on April 28, 1925, and graduated from Yale after a three-year wartime interruption to serve as a naval officer on a destroyer in the Pacific.
His first postwar job was as an assistant to Joseph P. Kennedy, then a member of the Commission on Organization of the Executive Branch of Government, known as the Hoover Commission. He also worked for two years as a reporter for The Cleveland Press.
He joined Time Inc. as a Washington correspondent for Time magazine, writing cover stories on Senator Joseph R. McCarthy and Vice President Richard M. Nixon. He worked two years in New York as a foreign news and national affairs writer.
In 1956, he became head of the company team that planned and supervised construction of the new Time & Life Building at Rockefeller Center. After the building was finished in 1960, he held a number of positions at Time Inc., including circulation director of Fortune, Architectural Forum and House and Home. In 1964, he became a vice president of Time Inc. and later was named director of research and development.
In 1966, he returned to journalism as London bureau chief of Time-Life News Service.
In 1968, he was named publisher of Fortune and, a year later, publisher of Time. He was a member of the board of Time Inc. and later of Time Warner.
He became president and chief executive of the Henry Luce Foundation in 1958, and was chairman from 1990 until 2002, when he became chairman emeritus. The foundation, established in 1936 with $690 million of Time Inc. stock, supports programs in higher education, Asian affairs, theology, women in science, engineering and the environment.
In 2002, a new gallery at the New-York Historical Society, the Henry Luce III Center for the Study of American Culture, was named for him. Its treasures include a collection of Tiffany lamps.
Other organizations Mr. Luce supported include the Augustus Saint-Gaudens' Memorial, the Center of Theological Inquiry, the Eisenhower Exchange Fellowships and the Brooklyn Museum of Art.
At various times, he was president of the New Museum of Contemporary Art, president of the board of St. Bernard's School in New Jersey, and chairman of the China Institute in America.
Mr. Luce's marriage to Patricia Porter ended in divorce. His second wife, Claire McGill, died, as did his third wife, Nancy Bryan Cassiday.
Mr. Luce, who also lived in Manhattan, is survived by his wife, the former Leila Eliott Burton Hadley, an author; a daughter, Lila Frances, of Kenya; a son, H. Christopher, of Manhattan; and a brother, Peter Paul Luce, of Boulder, Colo.