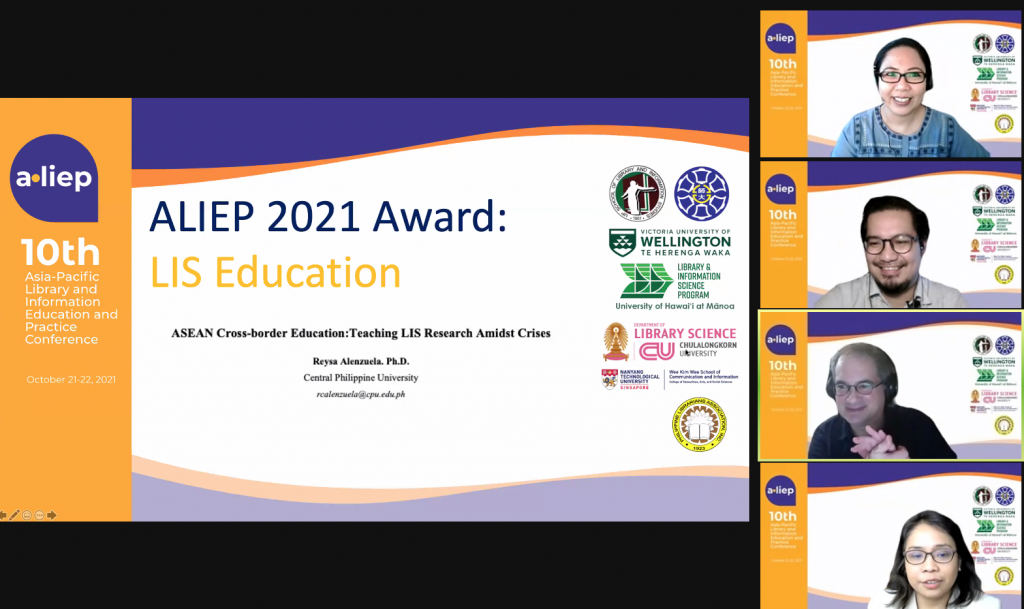 CPU School of Graduate Studies Professor, Dr. Reysa Alenzuela, was awarded the best paper in Library and Information Science (LIS) Education during the 10th Asia Pacific Library and Information Education and Practice Conference (ALIEP) 2021 virtual conference held 21-22 October 2021. Dr. Alenzuela wrote a paper on "ASEAN Cross-border Education: Teaching LIS Research Amidst Crises" – an autoethnographic narrative about teaching Research via online mode to Master and Library and Information Science (MLIS) and MLIS in Theological Librarianship students.
Aligned with this year's conference theme, Crossroads of Information, Human Rights, Social Justice and Equality, the paper discusses how education is carried out across borders amidst issues of pandemic and endemic problems and how inclusivity has been applied in the online classroom.
The A-LIEP Conference aims to to bring together speakers and participants to discuss and learn about the different and common practices in LIS education and profession from all over Asia and the Pacific.
Dr. Reysa Alenzuela, currently based in the Czech Republic, is currently a professor for the Graduate School and Consultant for Research and Publication under the CPU Office of the President. Browse Dr. Alenzuela's research works archived in the BAHANDIAN Institutional Repository.
To learn more about ALIEP, visit their website at https://a-liep.org/. For news and updates on the ALIEP conference, they also have a Facebook page: https://www.facebook.com/aliepconference