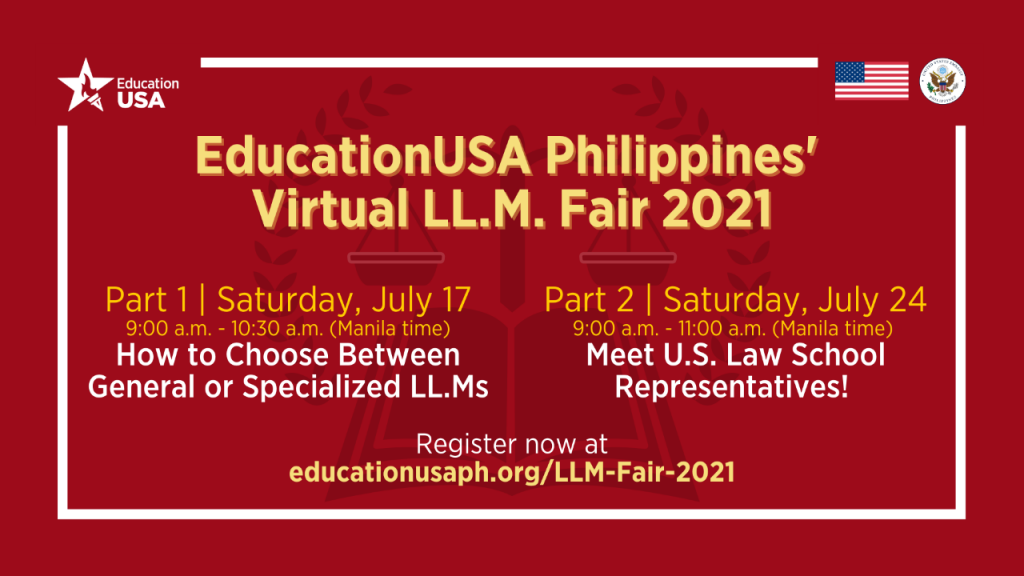 Are you thinking about applying to U.S. Law Schools? Are you interested in pursuing a Master of Laws (LL.M.) degree in the United States? Do you have questions about how to do this? Ask U.S. law school admissions representatives at our FREE EducationUSA Fair!
A week before the fair, the U.S. Embassy in the Philippines' EducationUSA office will hold a virtual program on Zoom so you can first understand your LL.M. program options in the United States. We hope this will help prepare you for the fair where you will meet more than a dozen U.S. law school representatives.
EducationUSA Philippines team will host a two-part virtual LL.M. (Master of Laws) event on July 17 and 24 (Saturdays).
Saturday, July 17 | 9:00 a.m. – 10:30 a.m.
LL.M. Fair Part 1
Understanding LLM Programs: How to Choose Between General or Specialized LLMs
Saturday, July 24 | 9:00 a.m. – 11:00 a.m.
LL.M. Fair Part 2: Meet U.S. Law School Representatives
The Zoom event is an opportunity for law students, faculty, and lawyers to receive real-time admissions advice from 23 American law schools.
On Saturday, July 17, we will team up with U.S. law school representatives in holding a virtual session on finding a good-fit law school and understanding LL.M. programs to prepare the event participants for the virtual LL.M. fair scheduled on Saturday, July 24. Participants will learn about the application process, admissions, and considerations for choosing online and on-campus studies. Those interested in internationalizing their CV and learning more about legal education in the United States will find the event particularly informative.
Registration is free and ongoing: https://educationusaph.org/LLM-Fair-2021.
Participating institutions: