Check out all our available databases on the A-Z Database List on our LibGuides or use the search box below. Chat or message Bertha for the log-in details for ProQuest, eLibraryUSA, GLDTL, iG Library, and Management Study Guide.
BAHANDIAN Institutional Repository of Central Philippine University
BAHÁNDÌAN is the institutional repository of the Central Philippine University for the management, dissemination, and preservation of digital materials that represent the scholarly work of the academic community and its affiliates and their faculty members and students.
Current Subscriptions (SY 2021-2022)
For the log-in details for the following databases, please ask Bertha (use the chatbox on the lower right corner of this page) or send us an e-mail at berthahll@cpu.edu.ph.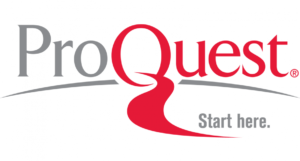 PROQUEST
"ProQuest's collections span six centuries, all disciplines and the diverse content types needed by researchers, providing the world's largest collection of dissertations and theses; three centuries of newspapers; more than 450,000 academic ebooks; collections of important scholarly journals and other content researchers need such as data; and unique digital vaults of primary source materials . ProQuest's renowned abstracting and indexing enables researchers to find sources in their area of study."
‼ NEW
Global Digital Theological Library
The mission of the Global Digital Theological Library (GLDTL) is to make high quality digital content in religious studies available to academic institutions in the developing world in an economically feasible manner.
Some materials may require a password. Chat Bertha or contact Theology Library In-charge, Christian Mosqueda, at cmosqueda@cpu.edu.ph.


iG Library
Free access for Centralians on iG Library, an eBook platform. Access more than 70 books on a wide variety of subjects including fiction, hobbies, business, spirituality, biography, and many more.
eLibraryUSA (Register here: registration is open for non-Centralians)
eLibraryUSA is a digital collection of trusted information resources from the United States with quality newspapers, magazines, journals, books, dissertations and award-winning films and videos.
News & Magazines
Note: To access the following resources, you must register and log-in via elibraryusa.state.gov

PressReader
Read popular newspapers from around the world and U.S. magazines in an easy-to-read and browse format.



Magazines on Flipster
Access the latest issue of popular magazines in the U.S. including National Geographic, Entrepreneur, Wired, Fast Company and Popular Science.
Academic & Research Resources

Gale Academic OneFile
A great resource for students and teachers for research and study. Search your topic in 8,000 academic journals.



JSTOR
A searchable database with journal articles focusing on the social sciences, economics, and history.



ProQuest Dissertations & Theses Global
Contains 1.5 million dissertations and theses written by graduate students from over 700 universities.



Gale In Context: Middle School
Read and research any topic in over 1000 journals, newspapers and magazines. Geared to 11-13 year old students.



Gale in Context: Opposing Viewpoints
Learn the view of experts on controversial and debated topics, and read articles on these topics in thousands of newspapers and magazines.
English Language Learning

BookFlix
BookFlix is a beginners reading website that combines animated fictional stories with related nonfiction books.
Streaming Video Resources

Kanopy
Stream from a selection of over 100 documentaries exploring the most inspirational and interesting contemporary topics in the United States.
Resources for Faculty
Management Study Guide
ManagementStudyGuide.com is an educational portal launched in 2008 with the vision of providing students and corporate workforces worldwide with access to rich, easy to understand, frequently updated instruction on many management related topics.
Trial Database
EBSCO: Until February 15, 2023 only
Page last updated February 1, 2023