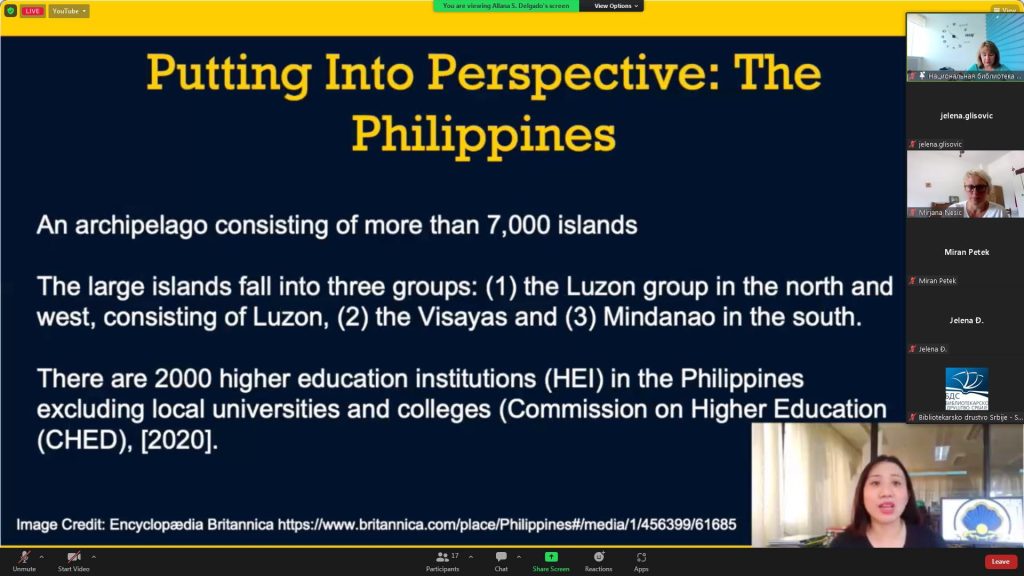 This article was first published in the Weekly Centralian Link
CPU Graduate School Professor and Consultant for Research and Publication, Dr. Reysa Alenzuela, with librarians Allana Delgado and Vince Palcullo, presented a paper at an international conference based in Europe. They presented at the 2nd International Online Conference on Digital Transformation in Culture and Education (DTCE22) last May 16-17, 2022.
The paper, "Academic Institutional Repository as a Treasure Trove for 21st Century Education," is about the Bahandian Institutional Repository. The presentation outlined the process of creating Bahandian, training librarians, digitization processes, and challenges in developing an online repository.
The Serbian Library Association and librarians from various institutions organized the event. Librarians and information specialists from Europe, Central Asia, and the United States presented in the webinar.
The conference "provides a forum for digital librarians, researchers, and practitioners to present and discuss the latest advancement and problems as well as future directions and trends in digital transformation." This year's event focused on "digital ethics, innovative learning, and workplace learning; in the context of developing competencies needed for delivering new digital content."
This is also a way to promote Bahandian and the university's research output to the larger international community of librarians, information professionals, and researchers. Bahandian Institutional Repository, launched in February 2021, is the first academic digital research repository in the Visayas and contains the research output of CPU students and faculty.
Allana Delgado was the presenter for the conference. The conference proceedings will be published online by the end of the year.
The recording of the conference is available on their website: https://digital.bds.rs/dtce22/