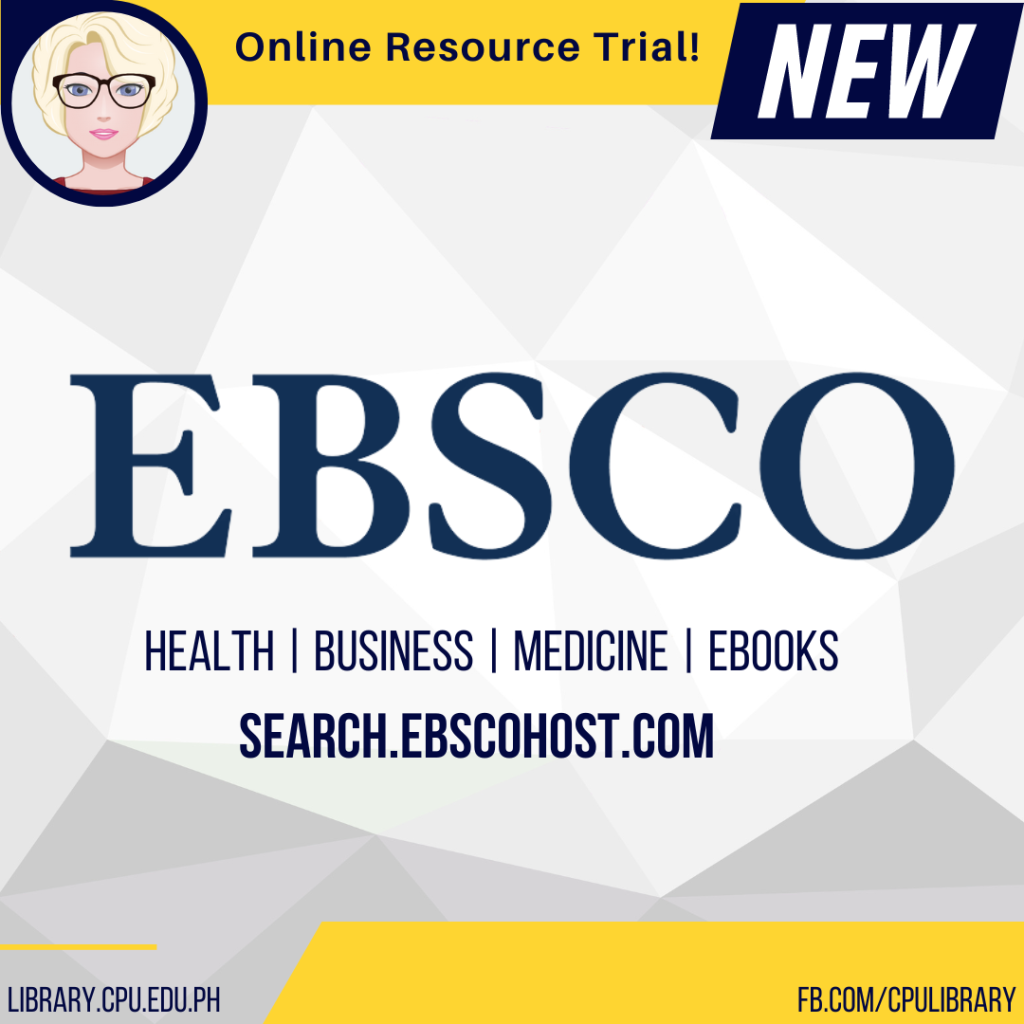 The Henry Luce III Library has comprehensive online resources for the CPU community for research and study. Aside from having an extensive collection of books to supplement teaching and learning, having online resources that users can access 24/7 and outside the library is also a priority.
We have a new database for trial: EBSCO, which provides a variety of research databases and other information resources to libraries and other institutions. Their databases cover a wide range of subjects, including academic journals, magazines, newspapers, and other publications. They offer a variety of other resources such as e-books, audiobooks, and primary source materials.
This trial will be available for a limited time until February 15, 2023 only (Note as of February 2023: trial access has been extended until March 15, 2023). We hope you find this new trial database to be helpful and informative. Let us know if you have any feedback by emailing us at berthahll@cpu.edu.ph.
To log in and explore this database, go to https://search.ebscohost.com
For the username and password, kindly send a message to our Facebook page or e-mail berthahll@cpu.edu.ph. This trial is only available for faculty, enrolled students, and alumni of the University.
The following databases are available as part of this trial:
Academic Search Elite
Academic institutions worldwide depend on this database as their core resource of scholarly information. Academic Search Elite contains full text for more than 2,100 journals, Nearly 150 journals have PDF images dating back to 1985.

Business Source Elite
This business database provides full text for over 1,000 business publications. The rich collection of titles in Business Source Elite provides information dating back to 1985. More than 10,100 substantial company profiles from Datamonitor are also included. This database is updated on a daily basis via EBSCOhost.

CINAHL Plus with Full Text
CINAHL Plus® with Full Text is a robust collection of full text for nursing & allied health journals, providing full text for more than 770 journals indexed in CINAHL®. This authoritative file contains full text for many of the most used journals in the CINAHL index, with no embargo. CINAHL Plus with Full Text is the core research tool for all areas of nursing and allied health literature. Full text coverage dates back to 1937.

eBook Subscription Academic Collection Trial
This growing subscription package contains a large selection of multidisciplinary eBook titles representing a broad range of academic subject matter, and is a strong complement for any academic collection. The breadth of information available through this package ensures that users will have access to information relevant to their research needs.

MEDLINE with Full Text
MEDLINE with Full Text provides the authoritative medical information on medicine, nursing, dentistry, veterinary medicine, the health care system, and pre-clinical sciences found on MEDLINE, plus the database provides full text for more than 1,470 journals indexed in MEDLINE. Of those, nearly 1,450 have cover-to-cover indexing in MEDLINE. And of those, 558 are not found with full text in any version of Academic Search, Health Source or Biomedical Reference Collection.