Henry Luce III Library collaborates with the Association for Theological Education in Southeast Asia (ATESEA) in conducting a two-day Webinar for Theological Librarians last September 23-24, 2020. This webinar focused on the theme, "Standards and Sustainability of Theological Libraries." The two-day activity which was participated by 64 Theological librarians and library staff from all over Southeast Asia was conducted to:
1) enhance the knowledge of participants on the standards adopted by
Theological Libraries;
2) develop a competency standard for Theological Librarians in Southeast
Asia;
3) update participants on trends in Theological Librarianship;
4) analyze the gaps, issues, and trends in Theological Libraries and
Theological Librarianship in Southeast Asia; and
5) recommend areas for integration in accreditation standards,
competencies and practices.
Day 1 started with a prayer from Rev. Arnel Faller, Librarian of the Divinity School in Silliman University in Dumaguete, Philippines. Dr. Limuel Equiña, ATESEA Executive Director, welcomed the participants. Allana Delgado, Librarian at the Henry Luce III Library served as the moderator for the day.
Session 1 was a panel discussion on "Standards in Librarianship" in different ASEAN countries. Hilda Putong, Head Librarian of the Jakarta Theological Seminary discussed standards in Indonesia. Philippine library standards were discussed by Ana Mae B. Cantel, Coordinator of the MLIS Program for CPU. Ms. Rangsima Khamsan talked about library standards in Thailand. She is the Librarian of the Dewald Memorial Library McGilvary College of Divinity in Payap University.
For Session 2, Guest Speaker Dr. Mitzi Budde, Head Librarian & Professor at Bishop Payne Library, Virginia Theological Seminary spoke on "Standards in Theological Libraries in the US and Canada." The session was followed by a short question and answer for the speaker.
The last speakers for Day 1 were Dr. Reysa Alenzuela, Library Consultant, and Faculty for MLIS; and Ma. Cynthia Peleña, Director of Libraries, CPU and Faculty of MLIS-TL. Their topic was a Summary Presentation of the Survey on Competency Index for theological librarians in Asia.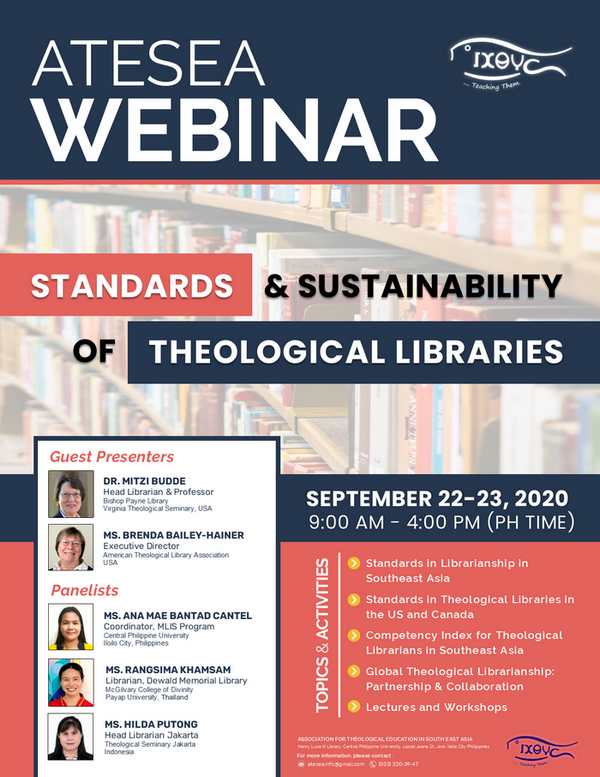 For the afternoon of Day 1, the participants were divided into groups by country to discuss library standards.
For Day 2, Haleluya Hutabarat, Librarian and Faculty of Theology in Duta Wacana Christian University, Yogyakarta, Indonesia, served as the moderator.
The first part was a report and discussion on the previous day's topics. It was followed by Session 3, "Global Theological Librarianship: Partnership & Collaboration" with Ms. Brenda Bailey-Hainer, Executive Director of the American Theological Library Association.
The 2 day online conference ended with a question and answer discussion and recommendations to ATESEA.
The ATESEA Office in the Philippines is located in the 2nd floor of Henry Luce III Library, CPU.